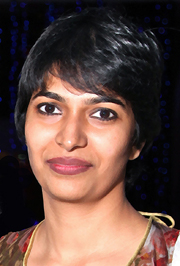 Raised in Chennai, I did my Masters in Business Administration from the University of Madras. I am a trained Interior Designer as well. Married to Telugu actor Venu Thottempudi, I have been living in Hyderabad for a decade now.
My acquaintance with scrapbooking tools & techniques provided me with endless possibilities to experiment with mixed-media and explore an abundance of materials.
My "Pages in Time" use photographs, journaling and memorabilia to tell a story and preserve a memory for posterity.
This art form encompasses all my passions in life - My Family, Art & Design. Unlike many other art products, 21st century scrapbooking materials are acid- & lignin-free and photo-safe. So contemporary scrapbooking preserves treasured moments, both literally through the use of archival products and by taking the time to document family history for future generations.
Scrapbooking was born in 17th century Germany, where etched, engraved and lithographed layouts were the scrapbook staple. Titled 'commonplace books', their pages were filled with transcribed poems, personal thoughts and memorabilia, such as pressed flowers, calling cards or locks of hair. The commonplace book of yesteryear is the scrapbook of today...a place for preserving precious memories by combining both literary and visual components through journaling and photographs respectively.
Scrapbooking draws upon the skills and techniques used in a host of other art forms & crafts like painting, collage, stitching, digital photography, embossing, stamping and so on. Many international artists straddle both mixed-media and scrapbooking effortlessly. My scrapbook pages eventually metamorphosed into 3-dimensional layouts and moved from albums to frames.
I would like to graduate to working on large canvases using hybrid techniques and not limit my layouts to the standard format of 12" by 12".
India has a rich tradition of crafts but none that combines the archival preservation of personal memories with art. My goal is to raise awareness about this unique form of art and inspire others to create their own "Pages in Time."
I am planning to teach a course in scrapbooking from 5th April onwards at Corner House. The course is aimed at older children. "Every child is an artist. The problem is how to remain an artist once he grows up" - Pablo Picasso. Interacting with children in workshops is always a mutual learning experience because children are not conditioned by "Dos & Donts". For them, imagination is more important than knowledge.
Scrapbooking is still in its infancy in India. A few people have turned this into a business of making amateur albums for others in some metros. I constantly post my work in online galleries (with links to my art blog) in international scrapbooking communities. Google stats show visitors from Peru to Latvia to Japan (to my blog:
www.scrapbooksfromindia.com
). I am yet to come across an Indian in these forums